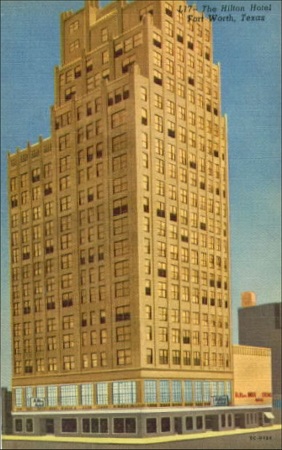 Fort Worth
Woods Chapel Baptist Church
---
On April 28, 1901, a group of worshippers gathered together in a brush arbor to organize a church congregation. Led by the Rev. Washington Lafayette Wood, a missionary who had arrived in Tarrant County from Alabama in 1891, the members immediately began the task of building a sanctuary on land donated by Sam McMurray. A small white frame structure was dedicated at this site in November 1901 and the church was named for the Rev. Mr. Wood. Worship services were conducted on both Saturdays and Sundays until 1910. Baptismal services were held in the nearby Rush and Village Creeks until 1912, when the congregation began to use a stock tank on the property of church member Will Moore. In 1928 the congregation called its first full-time Pastor, the Rev. C.W. Walton. Additional property was purchased in 1937, and an educational building was erected. The Rev. Mr. Walton continued to lead the congregation through the difficult years of the Depression, serving as Pastor until his death in 1941. The church continued to grow over the years. A new sanctuary, built in 1948, is still in use as a chapel for special services.
2424 California Ln. Arlington, Texas
Tarrant County
Year Erected: 1989
Marker Type: 27" x 42"