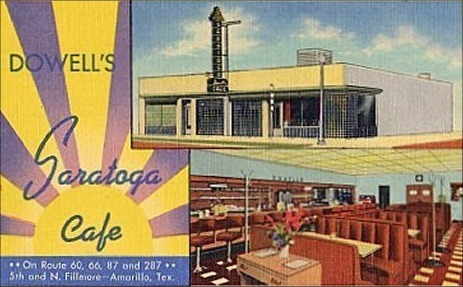 Amarillo
Amarillo
---
Named for Arroyo Amarillo, nearby creek given its designation by Spaniards in early days. In 1887, when the Fort Worth and Denver City Railroad was building through this region, a group represented by J. T. Berry platted the town (1 Mi. W.). The founders were merchants of Colorado City (250 Mi. SE), establishing convenient trade facilities for their South Plains customers. Later (Aug. 30) that year, Potter County was organized and Amarillo was chosen county seat by 38 LX and 15 Frying Pan cowboys as electors. In 1889 heavy rains and other inducements were factors influencing residents to move to this new townsite addition promoted by J. F. Glidden and H. B. Sanborn, owners of the Frying Pan Ranch (headquarters 16 Mi. W). In 1892 Glidden traded his interest in the city for Sanborn's interest in the ranch. In the years 1892-1897, Amarillo was the largest rural shipping point for cattle in the nation. When a rail line to serve the South Plains was proposed, Amarillo and Washburn (15 Mi. SE) were rivals for the junction. Amarillo won, through efforts of city developer Sanborn. When construction began in 1898, Amarillo's future was assured: it was to be the commercial center of the Texas Panhandle. (1970) (1970).
600 S Buchanan St., Civic Center grounds Amarillo, Texas
Potter County
Year Erected: 1970
Marker Type: 27" x 42"